About Us
We enjoy helping people feel their best with chiropractic.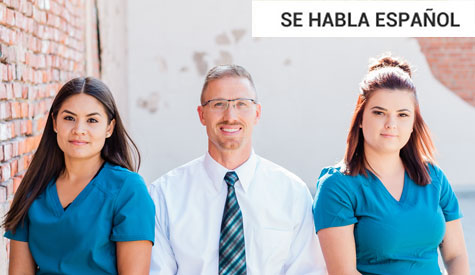 Great Plains Clinic of Chiropractic is committed to serving individuals who are seeking ultimate relief. Dr. Steve Scherr helps his patients identify their problem and set goals for a happier, healthier future. If you feel like nothing has worked to relieve your pain and you're getting lost in the shuffle of healthcare, our practice is ready to get to know you (on a first name basis) so that we can meet your specific needs.
We welcome our patients with open arms–our warm and friendly staff loves to make anyone who walks through the door feel at home amongst friends!
Our Practice Philosophy
We know that pain and trauma can interfere with important aspects of our lives. Identifying the issue is the first step, but finding out why our patients want to get better is the driving force. Aches and pains shouldn't get in the way of a happy life and we believe you should be able to do all of the things you love to do. We want to get to the bottom of your condition so that you can be at the top of your game!
Care for Children
At Great Plains Clinic of Chiropractic we are very experienced in caring for pediatric patients. We will tailor the care provided to be comfortable and safe for your child. Some of the more common reasons people bring their kids in to see us include ear infections, colic, constipation, bed wetting, asthma, ADD/ADHD and "growing pains." Chiropractic care for children can also help to ensure proper spinal development.
Practice Features
We care about our patient's experience with us. Our chiropractic care is natural, gentle and not the least bit intimidating. Additionally, visiting us is easy and carefree. We don't want to add any stress to your day–you're here for relief, after all. We are a Blue Cross Blue Shield In-network provider and are open late for your convenience with free parking, free consultations, and on-site x-rays.
MEET DR. STEVE »
Discover how chiropractic care can positively influence your life today. We look forward to welcoming you to our practice!

About Great Plains Clinic of Chiropractic | (308) 324-6000